Steadily mounting average temperatures are increasingly creating extreme weather conditions. The unpredictable threat Floods can always occur very suddenly and cause enormous damage. Due to climate change, streams and rivers are increasingly overflowing their banks. In addition to more general flooding, regionally-occurring heavy rainfall and melting snow are tending to cause more and more problems for home owners, even in areas that are located away from rivers. Therefore, it is particularly important in regions at risk to protect yourself from these forces of nature ahead of time.
If you prepare yourself and take preventive measures at an early stage, you can avert damage to your belongings. With a modern flood protection system made out of aluminium , you can protect yourself and prevent this natural phenomenon from causing extensive damage.
Ensure optimal protection with PREFA's demountable flood protection system! The special aluminium profiles are ideally suited for effectively sealing off windows, doors and gates and for protecting riverside areas and bordering land. With PREFA's demountable flood protection system made of lightweight, robust aluminium profiles, you can offer your house maximum security.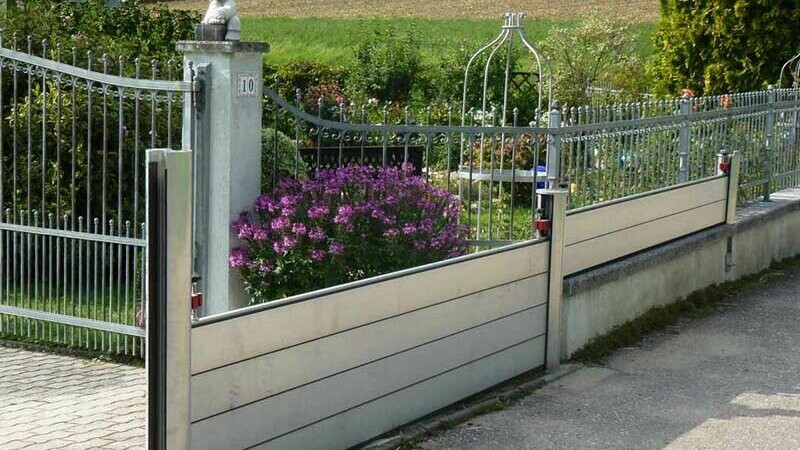 PREFA flood protection system house driveway
With a modern PREFA flood protection system, you can seal house driveways, gate openings, doors and windows against flooding. The length of the aluminium barrier panels can be individually adapted to different areas.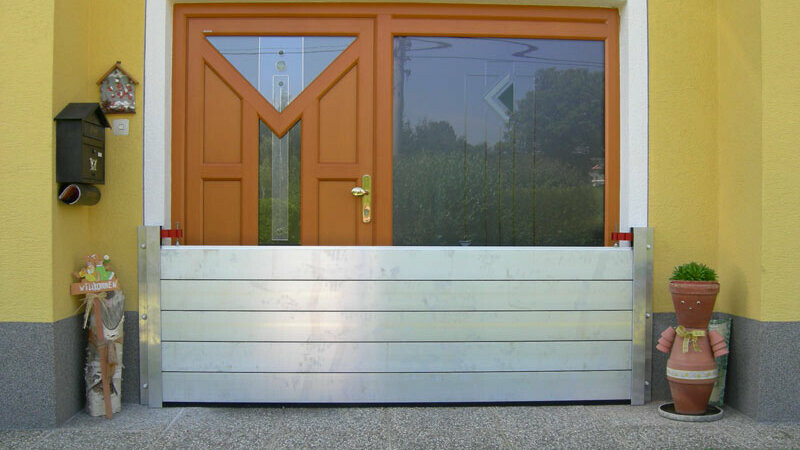 Mobile flood protection system for entrance doors
The special aluminium profiles, which are used as building protection, are suitable for effectively sealing doors, gates and windows. As land protection, the system can protect land areas close to riverbanks or adjacent areas from flooding.
PREFA mobile flood protection garage door
PREFA mobile flood protection to protect the garage from flooding. The aluminium barrier panels are individually adapted to the respective building.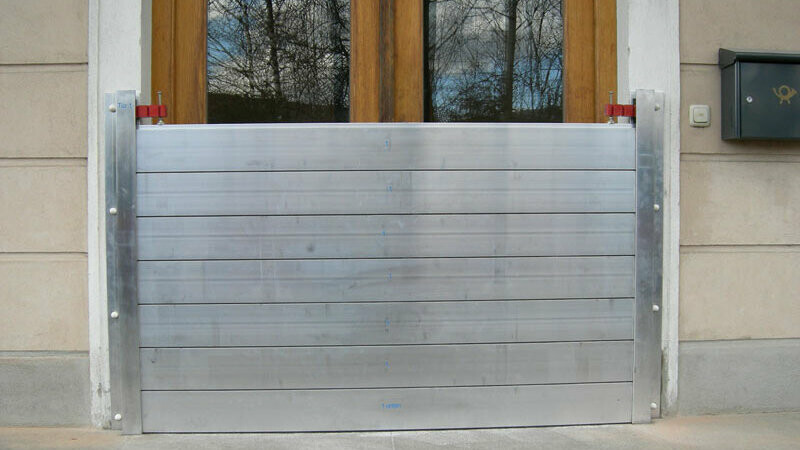 Mobile flood protection from PREFA
The PREFA mobile flood protection system can quickly seal off various areas of the house that are vulnerable to incoming water. Individually adapted barrier panels provide protection for doors, gates and windows.
What can the PREFA flood protection system be used for?
In general, the PREFA flood protection system can be used in two different areas: property protection and perimeter protection.
With the special aluminium barrier panels, you can quickly seal off the following areas of your house through which water can penetrate:
Various openings (e.g. garage entrances and garage doors)
Various doors (e.g. front doors, entrance doors, basement doors, patio doors, balcony doors, lift & slide doors)
Windows (e.g. basement windows)
By individually adjusting the length of the barrier panels, it is possible to protect a wide variety of windows, doors and gates from penetrating water. PREFA property protection is suitable both for private use, for example, on a detached house, and for larger company buildings. The barrier panels and permanently installed mounting profiles can be colour-coordinated to match the design of your façade.
Assembling and using PREFA property protection:
when first installed, the mounting profiles are permanently mounted in, behind or in front of, the reveal. Alternatively, the mounting profiles can also be fitted flush with the reveal. When used in the event of flooding, the barrier panels are pushed into the fastener on both sides, and fixed at the top with a compression clamp mounted in place. The lightweight and extremely robust system can be quickly set up in an emergency by just one person, if necessary, as you can see in the following video.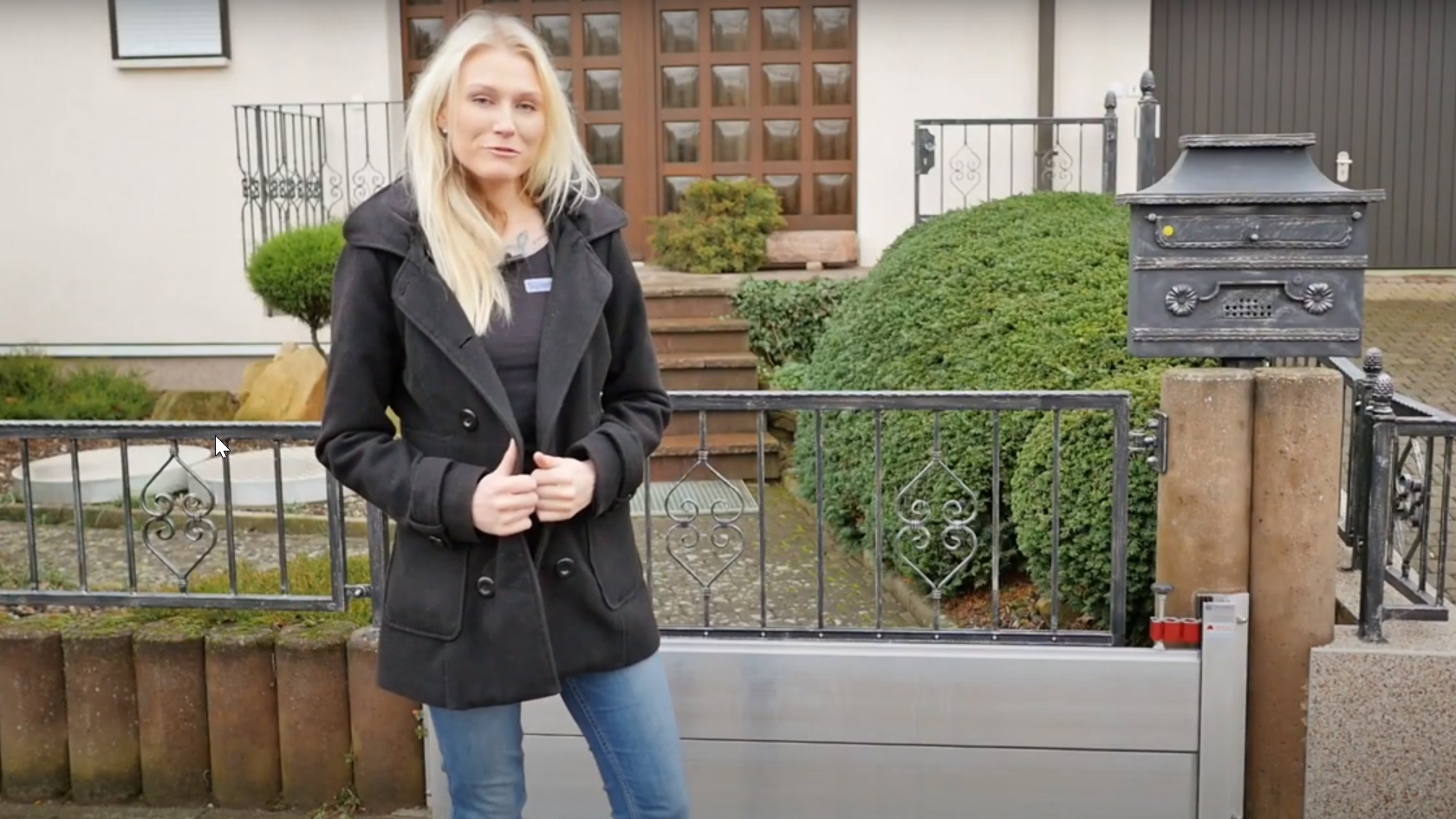 If you wish to protect larger properties or flood-prone areas (e.g. drives, roads or paths) from flooding, you can use PREFA's flood protection system for perimeters. The protection is provided by aluminium walls which are set up in open areas using ground sleeves. This system is ideal if you wish to protect your house or land, for example, from a stream flowing past which could possibly significantly exceed the normal water level during severe storms.
Assembling and using the PREFA perimeter protection:
when setting the PREFA perimeter protection up for the first time, ground sleeves are mounted in advance. If required, the flood protection walls can be extended or raised following a static test. In individual cases, the mounting uprights (supports) are anchored in the sunken ground sleeve and the aluminium barrier panels are then inserted. The panels and mounting uprights are easy to remove again after use, and the ground sleeves can be sealed with cover plates.
Mounting profiles (for barrier panels) or ground sleeves (for safety barriers) must be attached in advance for both types of PREFA flood protection system. This installation step must be carried out in advance so that, at a later stage, you can react at lightning speed in a severe storm, and you only need to insert the aluminium barrier panels, or for the perimeter protection, you only need to insert the mounting uprights into the already set-up device.
The advantages of PREFA flood protection

Can be installed by one person

Made from robust aluminium
Lightweight & easy to store


Possible to adapt the colour
Possible to adapt the colour so that it matches the property to be protected

Can be installed by one person

Made from robust aluminium
Lightweight & easy to store


Possible to adapt the colour
Possible to adapt the colour so that it matches the property to be protected
Checklist: Are you at risk of flooding?
You can check whether your neighbourhood is at risk of flooding at Hora.at . You can also use the following checklist to see whether you live in a region at risk of flooding. The more questions that you answer "yes" to, the more you should think about taking protective measures:
Is your property located near a body of water (river, stream, lake, etc.)?
Is your house in a valley?
Can water penetrate into your house through doors, windows or other openings?
Can water penetrate via other low-lying openings in the basement or garage?
Does your property have a ground-level entrance or patio through which water can penetrate into the house?
Do any driveways, car parks or paths slope down towards your house?
Flood protection measures in Austria
The aim of the Floods Directive (Directive 2007/60/EC of the European Parliament and of the Council of 23 October 2007) is to create a framework for the assessment of the risk of flooding and the procedure to follow. The aim is to reduce the adverse effects of floods on human health, cultural heritage, the environment and economic activities. This Directive assesses and selects provisional risk areas, evaluates hazard and risk types and develops and implements a risk management plan based on the assessments. You can read all about current and relevant facts in the brochure entitled "Flood Risk Management in Austria".
What is the flood protection system made of?
The PREFA flood protection system is made up of several components:
starter barrier panel with ground seal
stackable barrier panels
Wall mounting profile (property protection)
mounting uprights with ground sleeves (perimeter protection)
compression clamps for fastening the individual panels
The barrier panels, fasteners and compression clamps are made of aluminium as the material is break-proof, weather-resistant and rust-proof. As the material is so lightweight, you can effortlessly transport the individual protective elements and set them up quickly in an emergency.
Using PREFA flood protection systems
Aluminium barrier panels are pushed into the mounting profiles or uprights (anchored in the ground sleeves).
Barrier panels are stacked on top of one another via the tongue and groove system
The components are fixed at the top by a compression clamp
The barrier panels fill up as the level of water rises, further preventing them from floating and increasing the stability of the wall.
Detailed mounting instructions for the PREFA flood protection system
You can find detailed mounting instructions for the PREFA flood protection system below: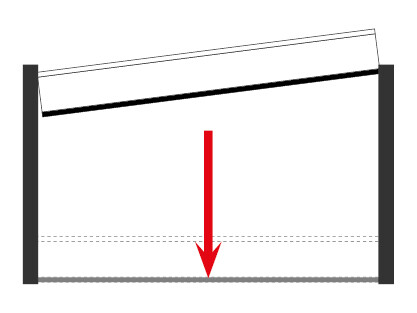 Inserting the lowest barrier panel
Start by inserting the barrier panel with the ground seal into the base profile from the top. Press down firmly on the barrier panel until the ground seal rests flush on the ground.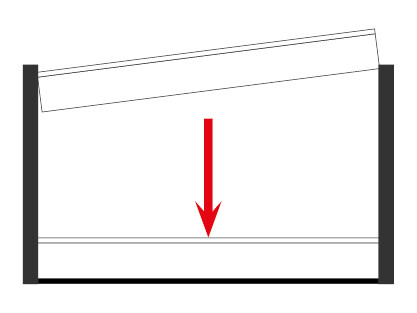 Inserting additional barrier panels
Once the lowest barrier panel is firmly in place and lying flush, continue by inserting the other barrier panels. To do this, fit the panels from above diagonally into the base profile guide as shown in step 1, and press them down until the tongue slots into the groove and the seal fits flush.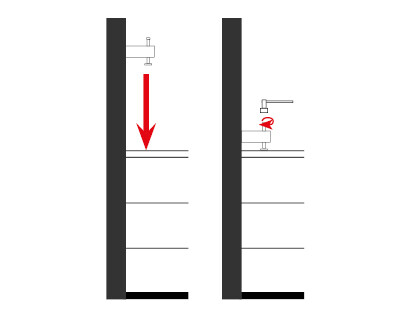 Installing the compression clamps
Push the compression clamps with the adjustable foot down into the base profile guide, and press them down until the adjustable foot comes into contact with the top profile. Then use an Allen key to gently tighten the screw on the compression clamp.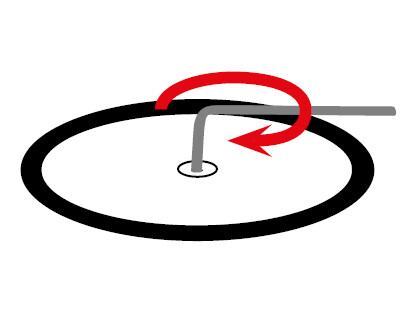 If you wish to use intermediate uprights for perimeter protection, you must first also follow steps 4–6. Unscrew the countersunk screw on the ground sleeve cover plate by approx. one centimetre, pull the cover plate out and remove.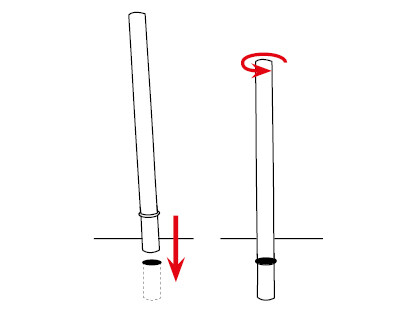 Mounting the centre column
Next, fit the centre column into the open ground sleeve by rotating it. When doing so, make sure that the sealing ring fully seals off the lower end of the column.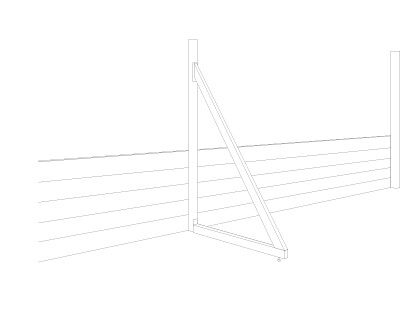 Possible mounting of an additional support
If the safety barrier exceeds a surface area of 2 × 2 metres, you need to clarify whether or not an additional support is required.
Tip from the PREFA experts: this is how to store and maintain your PREFA flood protection system correctly!
For optimum storage of the flood protection system, we recommend using PREFA's aluminium wall brackets. The barrier panels can be stacked on the wall brackets with the bottom barrier panel at the top of the stack to ensure quick mounting of the system in the event of a flood. Never allow aluminium to come into contact with aluminium. Use cardboard, plastic or chipboard separating strips to protect the barrier panels from cold welding caused by moisture ingress. The compression clamps can be stored in an additional compartment or on top of the barrier panels.
Regularly maintain your flood protection system by assembling and disassembling it at least once a year. This will allow you to make sure that you remember how to set it up while also checking that the system is complete and in good working order. After use, clean all seals and treat with silicone spray. Replace any damaged seals.
Where can I get hold of a customisable PREFA flood protection system?
Are you interested in acquiring a PREFA flood protection system? If so, contact our highly skilled staff who will be delighted to help you. You can contact them using the contact form.
Our staff will get in contact with you to discuss all the details of your project with you. It is only by individually adapting the height and length of the PREFA flood protection system, that an effective solution can be provided.
Alternatively, you can also fill in the following flood protection questionnaire and send it to the following email address: hochwasserschutz@prefa.com
You can find more detailed information and technical details about the product in the "Demountable flood protection" section.
You can request our free flood protection brochure here and now, online.
Floodwater doesn't stand a chance — demountable flood protection by PREFA. Wait no further — protect your home!