A real eye-catcher: the irregular canting of the FX.12 façade panel conjures up lively light effects on your façade. The panels constantly change appearance, depending on the position of the sun. However, the canting has en even more important function: it provides the panels with additional reinforcement, increasing their resistance.
During production, each piece is embossed in a unique way so that the cant pattern never repeats itself and is always irregular, even on large surfaces. An additional technical feature is the tapered standing seam.
This ensures absorption of any lateral expansion.
Through the additional canting of the top seam and the pre-cut holes, the FX.12 façade panel can be directly fastened to sheathing or a substructure.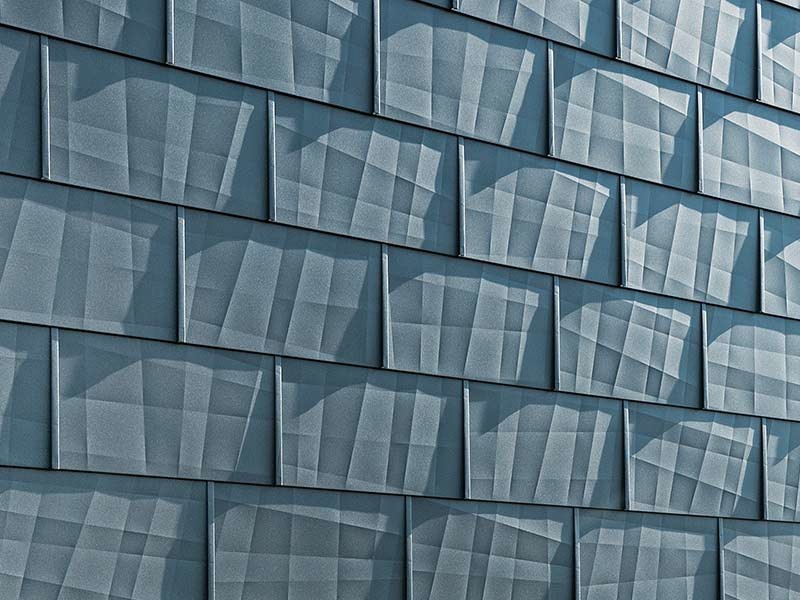 Advantages of FX.12 façade panels
Available in 15 colours
40-year PREFA guarantee on materials and colours
Quick and easy to install
No additional clips required
Creative design through irregular joint offset with 2 formats (long and short)
The product is available in the following colours
| | | |
| --- | --- | --- |
| Colour | Code | ~ RAL |
| | P.10 brown | 7013 |
| | P.10 anthracite | 7016 |
| | P.10 black | 9005 |
| | P.10 brick red | 8004 |
| | P.10 oxide red | 3009 |
| | P.10 moss green | 6005 |
| | P.10 light grey | 7005 |
| | P.10 prefa white | 9002 |
| | P.10 nut brown | 8019 |
| | metallic silver | 9006 |
| | P.10 dark grey | 7043 |
| | ivory | 1015 |
| | P.10 sand brown | 1019 |
| | P.10 stone grey | 7031 |
1 The colours P.10 stone grey, P.10 sand brown, P.10 rust brown, P.10 patina green, natural oak, grey oak, walnut, patina grey and plain aluminium reflect natural tones and are therefore subject to slight variations in colour, which give the products their unmistakable character.
3 Metallic colours may vary in shade.
The RAL numbers indicated are approximations only [~] and may, in some cases, differ greatly from the PREFA original colour. They may not be a true reflection of the subjective perception of colour.
Particularly in the case of the P.10 paint quality, it is difficult to precisely define the number due to the nature of the surface structure. In addition, the colours P.10 stone grey, P.10 sand brown, P.10 rust brown, P.10 patina green, grey oak, natural oak and patina grey are based on natural colours made up of several different shades.
We recommend obtaining original samples so that you can gain an idea of the exact colours of complementary components.
FX.12 façade panel — Technical information
Material:

aluminium 0.7 mm thick

Visible side:

Coil coating

Rear:

protective paint

Size:

1,400 × 420 mm (long) = 1.7 pc./m²
700 × 420 mm (short) = 3.4 pc./m²

Weight:

1 m²=approx. 2.4–2.5 kg/m²

Roof pitch:

from 17°

Installation:

only on solid sheathing (at least 24 mm thick)

a separating layer is required with a roof pitch up to 25°

Fastening:

installation without clips. 3 nails per short panel and 5 nails per long panel → 9 nails per m² with a panel ratio of 2:1 or a surface ratio of 4:1 (long:short)
FX.12 façade panelling installed on full boarding
FX.12 roof panel — Planning and installation
More product information is available for downloading here.
Note: Download DWG and DXF format files by right-clicking and selecting "Save link as".
FX.12 façade panel — Accessories
starter strip for façade shingles, rhomboid façade tiles and FX.12
1800 × 158 × 1.00 mm; pre-drilled